Best Dog Leashes For Safety
Now that you have hopefully decided on what type of collar or harness you will be getting for your new dog or possibly your current one, let me show you a few leashes that I recommend.  So many people think a leash is just a leash, but do not realize that there are ones out there made for different types of control over your dog.
Below I have listed the ones I found for walking, training, pulling dogs, use for just with collars, and use for just with harnesses.  A leash is an important tool for training your dog and having the one to do the best job for you is also something you need to take into consideration for the safety of you and your pet.   I do hope this is helpful in your search for the proper leash for your pet.
---
Best Leash for Walking your Pet with a Collar
I found the most durable and nicest leash in the category is the Primal Pet Gear Leash, this leash offers ruggedness for everyday use and durability at a very decent cost.  They also have a variety of types that you can select from including a hands-free and double handle style.  The double handle style comes in a 6 foot and 8-foot length to meet your needs for the medium to larger breed dogs.
FURRY BUDDY Hands-Free Dog Leash, Dog Walking Training Belt Shock Absorbing Bungee Leash up to 180 pounds for Medium to Large Dogs, Phone Pocket and Water Bottle Holder, Fits All Waist Sizes from 28" to 48"
Both of these are available from Amazon by clicking on either image you can order these directly at the same costs as if you were to use the Amazon domain.  Please be advised the website owner will be paid a commission from your purchase.
---
Best Leash for a Pulling Dog
If your dog is a puller and whether a small, medium or large breed dog, I recommend the Thunder Leash for strength and durability to keep your dog safe from a leash that could easily snap letting them head into harm's way.  You may find that this leash is a little more expensive but it is well worth the extra you will pay instead of buying cheaper leashes and having them break on you.  Shown below is the one from Amazon for small breed and medium/large breed.
ThunderSnap Quick-Connect Dog Leash
Just snap in and go.  No more wrestling to get the leash on, ThunderSnap secures with just one hand, in just one click and releases with just two fingers.  Designed so only a human can detach ThunderSnap. Simply pull the grey slide down to release. Easy for you…impossible for your dog! A dog cannot release ThunderSnap with scratching, banging, or biting.
ThunderLeash No-Pull Dog Leash
This simple "no-pull" leash solution has proven effective with over 80% of dogs.  Recommended by positive-based trainers around the country.  Goes on in seconds with no complicated straps or irritating head-collars: Just clip it to the collar, wrap it around the torso and go.  Comes with easy-to-grasp, comfortable padded handle.  Take less with you:  This 2-in-1 solution can be used as a harness, or just as a leash. Adjusts to fit any breed of dog.
---
Best Leash for a Harness for Dogs
Because I have recommended the harnesses for the most comfort for your dog and the best safety for them also; here I am going with a leash that has dual hookups to the harness for the best control over your dog.  It is the Dual Walker Dog Leash and has two hooks for No-pull training for your dog.  I found this leash in doing all my research and it is only available through a custom-made website.  Just so you know I make absolutely nothing by promoting their products;  I still find this leash the best for performance and use.  If you are interested in this type of leash please visit: "3 Pooches Dog Collars, Harnesses, and Leashes"  All of their products are custom made in the USA.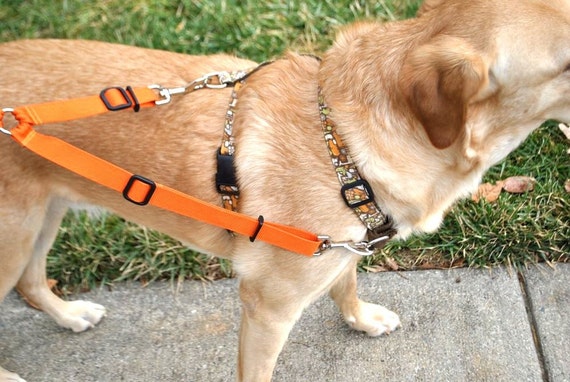 These are my picks for leashes if you have others that you have experience with or possible tips to help new puppy or dog owners or experienced owners please leave them in the comment section.  Thank you very much for reading and visiting my site.
Here at Delightful Doggies 4 U I would like to know what type of collar, harness, or leash you use for your puppy or dog?
Please leave your answers below along with any questions, comments, or suggestions that you have for me.  I answer these usually within 24 hours.
Thank you for stopping by today and please bookmark the site for more information coming in the future.
Susan