CritterZone Air Purifier Reviews
Are you a dog owner with allergies? Then you already know about the coughing, sneezing, itchy eyes and everything else that allergy suffers deal with that get in the way of enjoying their dog.
This does not have to be the case you can have your cake and eat it too! Thanks to the CritterZone Air Purifier pet allergies and unpleasant odors are a thing of the past.
Owning a puppy means "accidents" on the carpet, but with CritterZone you are not going to have the urine spells to deal with. After reading my article today I am sure you will want to order more than just one CritterZone for your home.
---
What Is A CritterZone Air Purifier?
The CritterZone Air Purifier is not an ozone generator OR an ionizer. Instead, it reactivates indoor air to act just like the sun and wind to give the inside air the ability to clean itself.
Outside the sun and wind constantly give the air a natural charge, helping it breaks down odors and allergens. Indoor air has no way to mimic this cycle, it becomes stale and full of bad odors, and allergens.
CritterZone Air Naturalizer once plugged in creates a charged flow that continually cleans the air. This eliminates those pesky odors, allergens, dust particles, bacteria, mold, mildew, etc. from indoor air just like the sun and wind.
This compact device can be moved from room to room in your home to cover 800 square feet of clean air or can be used to eliminate odors in your automobile, basement, garage, even workplace.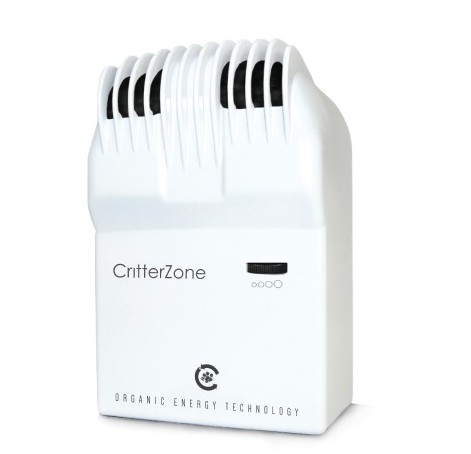 Are you aware that the Environmental Protection Agency (EPA) estimates that, on average, indoor air is two to five times more polluted than the outdoor air? Spending 90% of our time indoors this is the dirtiest air we breathe!
Considering clean air is important for everyone's health, air quality improvement is essential for certain people, such as seniors, babies, or anyone with respiratory issues (asthma, COPD, emphysema, etc.).

---
How Does A CritterZone Air Purifier Work?
When you plug in the CritterZone for the first time it begins to reactivate the indoor air by creating active ingredients that give the air the ability to clean itself. These active ingredients create chemical reactions breaking down contaminants.
You will probably smell odors as the air works to clean itself. This lets you know the machine is working and doing its job like it is supposed to do.
When was the last time your air inside your home, office, or automobile was cleaned? These smells might take some time before you no longer have them coming from the machine doing its job.
CritterZone can be used to eliminate odors from fabrics, carpets, and your air. This small invention is like a catch-all when it comes to destroying odors. But the cleaning of actual pollutants that harm humans as well as our beloved pets.
Clean healthy air is so important that the quality of our air can drastically affect our mental processes. "Research is also finding air-pollution-related harms to children's cognition. …scored worse on tests of memory and verbal and nonverbal" Read more about the effects of air pollution on your brain.
---
Cleaning Your CritterZone Air Purifier
With no costly filters that are going to need replacing knowing how to properly clean your CritterZone Air Purifier is simple, just watch the video.
---
Common Questions Asked:
How much will my electric bill increase?
We doubt that you will even notice a difference in your electric bill from the CritterZone. The Air Naturalizer consumes only 3 watts of energy on the highest setting. To compare, a typical lamp consumes about 60 watts.
Even with the CritterZone systems running continuously, improving your air quality will not create a significant difference in your electrical bill.
What causes indoor air problems?
There are many sources of indoor air pollution within any home, including pets, dust, bacteria and odor-causing particles. The list can also include pollution from tobacco use, exhaust, central heating, and cooling systems and even humidifiers.
Outdoor pollution can even creep in and affect the quality of air inside the home. Inadequate ventilation can increase the pollutant levels by not bringing in enough outdoor air and not carrying enough pollutants out of the home or business. For more information, please visit the EPAs website: www.epa.gov
Will the CritterZone clean the air for my whole house?
While an individual CritterZone Air Naturalizer is quite effective and can restore the air for up to 800 square feet, indoor air quality should be examined on a room-by-room basis.
Airflow and circulation can be limited by walls, doors, tall furniture and other barriers, which can limit the effectiveness and the path of the natural energy produced by the CritterZone.
Whole-Home Systems are designed to fit your personal air quality concerns with the size and structure of your home or office. Please call 612.235.4911 or fill out our CONTACT US form for your FREE AIR-QUALITY CONSULTATION today.
Where should I put my CritterZone?
The optimal location depends on your essential air quality goals. For allergy sufferers, the ideal location would be in your bedroom considering most people spend 1/3 of their life there.
If your allergies are caused by your pets, you may want to keep the purifier where your animals spend most of their time to help control their dander.
Odor control is as simple as keeping the CritterZone near the source of the odor: litter pans, kennels, kitchens, bathrooms, garages, and garbage… the list goes on.
Ideally, give your CritterZone room to breathe. Air circulation helps the Air Naturalization process and its effectiveness, so oscillating fans, and ceiling fans are fantastic. Humidifiers can be helpful, too (See TIPS & TRICKS).
---
In Conclusion
We all know that only Mother Nature can provide us with clean air in a natural way. Now we can follow in her footsteps with a CritterZone Air Purifier for in our own home, workplace, school, automobile, the list goes on.
Considering the cost of operation is less than a penny a day who cannot afford to make sure they have the cleanest air to breathe keeping them healthy?
Your CritterZone Air Purifier is covered by a 30-Day Return Policy leaving you no reason not to give it a try.
Let your dog play outside getting the fresh air and exercise like it needs to do. So what if it rolls in a puddle of water or jumps into a snowbank. Bringing that wet dog smell it is no problem with the CritterZone Air Purifier.
Dog dander irritating your allergies, no problem with the CritterZone it takes care of eliminating dander along with so many other irritants you no longer need to worry.
Remember the CritterZone is not just limited to your home, you can take it with you in the automobile, to work, to school, or anywhere you have a mind to travel.
Don't hesitate about getting yours today! Who besides the people you love the most deserve the cleanest air inside and outside the place they live?
Hearing from my readers is always appreciated please leave comments, suggestions, or questions in the space provided below. I usually answer within 24 hours.
Thank you for stopping by today please bookmark my website for future reference who knows what I may find next for keeping you and your beloved dog healthy and happy.
Susan