Dog Car Seats or Harness 
Which to choose?
Being a responsible dog parent is also making sure that you keep them safe when traveling in your vehicle.  We buckle up in our vehicles to keep ourselves safe and our children are always in car seats required by laws.
Although, it is not required by law to buckle up your fur babies it just makes sense to keep them safe during travel as well.
But which do you choose when selecting a proper way for dogs to travel?  Let's look at what is available to keep our fur babies safe on the roads.
---
Dog Car Seats
Dog car seats are available for medium-sized dogs and small dogs, for large and extra large breed dogs you are looking at harnesses only.
There are some people out there that do take the large and extra large breeds with them when they are driving so please use a harness to keep them in the back seat when you have them in the vehicle with you they can become a distraction while driving.
Strapping them in when they are smaller will get them used to riding in a harness when they are grown.  No matter how cute they are or objections they put up about being restrained as a puppy it is for their safety and yours to put them in a harness.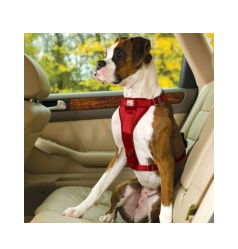 For the medium size dogs, I was able to find a very nice looking, cozy, padded booster seat with a sturdy restraint system that can be used for small to medium-sized dogs always use it in the back seat and seat belt and strap it in.
There are two additional parts needed to provide your pet with the best safety with this luxury car seat and they can also be purchased through Amazon they are the safety dog harness which attaches to the safety tether and this attaches to the seat belt in the back seat.
Please use all three pieces to keep your pet as safe as possible when traveling especially on longer road trips.  I am NOT an affiliate of Amazon but feel that our pets deserve the very best when it comes to their health and safety.  Therefore these products are not linked to Amazon you will need to access them on there.
For small dog breeds, you can find many types of dog safety car seats at any of the pet stores and online so be diligent in your selection knowing you are providing the proper safety for your dog.


---
Dog Safety Harness for Cars
Dog safety harnesses come for all size dogs and please make sure to find one that is comfortable and fits your dog best, ordering products online is sometimes difficult to size the dog so make sure they have a valid return policy to return in
case the harness does not fit your dog.
Large and extra large dogs can be fitted for this kind of safety harness and I feel this is such a great idea to keep them safe and less of a distraction to the driver especially when going on trips for vacation or visiting far away from home.
It is always preferred to keep your dog in the back seat of a vehicle but some trucks do not come with backseats so making sure that your dog is secure in the front seat is even more important in the event of stopping quickly.
We have all read and heard of dogs being thrown from a vehicle on impact so making sure your dog is securely fastened in should always be a priority for any pet owner.
Medium and small dog safety harnesses for cars are numerous and come in a variety of styles to chose from personally I am not after style but the safety of the harness when it comes to my own dogs.
Making sure the harness is rated to the size and weight of your dog and keeping them comfortable for the ride is what I feel is the most important factor when picking a harness. 
---
Toy and Small Dog Breed Booster Seats
These, in my opinion, are good for the small dogs but owners need to be aware that safety of the animal should come first before the idea that any small dog needs to be hanging out the window of a vehicle.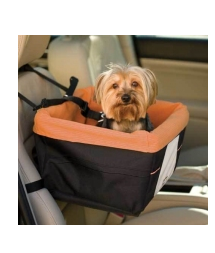 Seeing owners riding around with small and toy breeds sitting on their laps and hanging out the driver's door window might look really cute but is very dangerous not for others and the driver only but the small dog as well 
That tiny little dog could jump to its death in a second should the owner not be paying attention and that little one sees or hears something that piques its curiosity and it wants to go for it.
This could easily cause a bad accident should the driver have to deal with a small dog who has decided to distract him from driving on a busy street or highway and not just can the dog-end up getting hurt but this could end up in other fatalities.
With all the booster seats available to secure a toy or small dog so they can see out, but not hang out the window this is a much better option to keeping not just the dog safe but everyone on the road safe. 

---
In Closing
Many people do not consider these things when it comes to their dog's safety when riding in a vehicle because in the past it was easy to just open the door and let them jump on in to go for the ride.
But with more motorist on the roads today thinking about their safety as well as our own and other drivers on the road this is something everyone needs to take into consideration the next time they want to take their dog along to the store.
Road trips going on vacation or to visit someone far away making sure your dog is securely fastened up can save their lives and many others so please make sure to get your dog a safety seat or harness prior to your planned trip.
Are there any dog car seats you can recommend for the readers?
What about safety harnesses do you already have one you can recommend?
Do you use a dog car seat or safety harness for your dog?
Delightful Doggies 4 U would appreciate any feedback to what you use for your own dog keeping them safe while riding in the vehicle.
I love hearing from my readers all comments, suggestions, or questions can be left in the space provided below.  I answer these usually within 24 hours.
Thank you for stopping by and until next time keep your dog safe and bookmark our site for more valuable information,
Susan