This post is pretty special to me and I hope you will enjoy the read too.
If you do please share the link with as many people as you can to share these two great stories.
Connor's Best Friend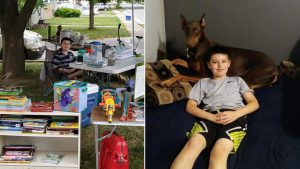 Connor has a best friend.  His Doberman Copper and Copper looks after Conner who suffers from PSTD, Anxiety and Chronic headaches.
Back in 2017 Copper started limping and was diagnosed with Wobblers disease so Connor decided to help raise money for Coppers treatment.
He cleaned out all the toys from his toy room and had a garage sale and he also made lemonade to raise money for his beloved dog, Copper.
Copper is everything to Connor and on more than one occasion has saved Connor's life.
One night, while Connor was sleeping Copper, started barking to alert Connor's Mum, that something was wrong and when Connor's Mum came to see what was going on, Copper was pushing at Connor's bedroom door. Connor's Mum went in only to find Connor having a nocturnal seizure.
He had more seizures and his Mum took him to get treatment. Thanks to his faithful friend, Connor has stopped having seizures.
When Connor has anxiety attacks, Copper lies on him to help him calm down.
To help Copper get treatment Connor's family started a Go Fund Me Campaign and have raised over $18,000 which means Copper has a real chance to get the treatment he needs and Connor gets to keep loving his best friend while feeling safe Copper is there for him.
Dogs help kids – What an amazing bond Connor and Copper have.
Remy saved by her dog Fat Heath
Last Thursday Remy, only 3 years old went missing from her home her Mother called and searched the property and couldn't find Remy so she called for help.
100 Volunteers being neighbors and people who got wind of what was going on arrived to help search for Remy.
Nearby was a cornfield where it was possible Remy had gone so the searchers began a very emotional and stressful search.  Helicopters flew over the cornfields and couldn't find Remy and then darkness fell.
At daybreak, the next morning search dogs were searching for Remy and started barking in the middle of the cornfield, when they heard a tiny canine response.
Remy was found asleep about half a mile from her house and if it hadn't been for her dog the search would have taken so much longer.  Remy was tired, exhausted, and sweaty and it took a while for her to drink something but she was ok.  Remy and her best friend Fat Heath went home.  When asked if she was scared she replied: "Oh no, I had Fat Heath with me".
What a lucky little girl to have such a faithful friend at 3 years old and Fat Health was going to get a steak for being such a great dog.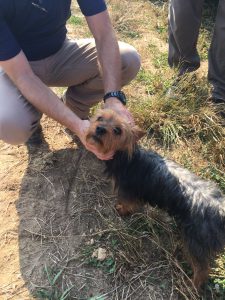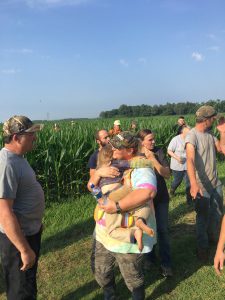 What great stories- I hope you share this post as it will give people so much more knowledge on how amazing Dogs really are.
Thanks and if you have any questions please email me at delightfuldoggies4u.com
Please comment below if you enjoyed this post.
Bye for now
Vicki