Natural Cures For Dogs – Vets are Expensive!
I would like to share some of the tips for taking care of dogs that I have learned over the many years of being a dog lover.
These tips are proven facts or I would not publish them here for you to use.  I have experienced these remedies working very well with my own dogs (and some can be used for other animals as well).
---
These

 are all tested by myself with past experience:
1.  The first one I have to share is I had a Labrador retriever that had problems with fluid on his ears,  the first time this occurred I took him to the veterinarian and had the ear tubed for draining.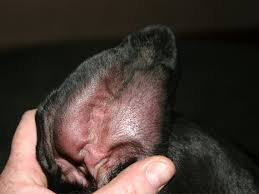 This was not only messy because every time he shook his head fluid would fly out but considering my dog could not talk I am guessing probably painful.  After doing some research and received some advice from a friend I found out if you give your dog Benadryl (I used the children's chewable) even though it took a couple of weeks the fluid cleared up all by itself.
So when my Pit Bull developed the same fluid in his ear I followed the same procedure and it worked.  This to me is a better way of curing the problem and much less costly.
---
2.  The other tip I have today is curing mange on an animal (this works for more than just dogs).  My parents used to be distributors for Amway Products,  and I had a German Shepherd Labrador mix, he was an outside dog, therefore, him contracting mange was not unheard of.
I was young and did not have a job and since my parents had four children and could not afford to take him to the veterinarian they suggested I bath the dog in L.O.C.  This is a Liquid Organic Concentrate produced by Amway exclusively and can be used for anything you can think of including shampoo.
So I followed my parents advise and took the dog to the car wash because he was so stinky my mom would not allow me to bring him in the house.  I bathed him in the L.O.C.  twice that week and don't get me wrong it took a couple of weeks but his fur all grew back and was softer and fuller, he looked great.
Everyone can be skeptical if they want but I am very serious when I tell you this L.O.C.  works for animals skin problems very well.  I also had a dog that was a mixed breed she had problems with allergies, this was years later and I had to locate an Amway Distributor which was a process considering this is not as big as it was back when I was younger.
I found a distributor got a bottle of L.O.C. bathed her a couple of times and guess what her fur all grew back and for some odd reason she seemed to not lose it ever again..  Now I can't claim it will help every single skin or allergy problem your dog may have but considering the alternative of medications that you have to give your animal (mange medications can shut down their kidneys) I have always recommended trying this product first IF you can find it.
After all organic verses, man-made medications with who knows what in, cannot really be good for your animals.  Just a side note here my mother used to wash her hair with it made it silky and non-fly away she loved it!  **another little side note the L.O.C. does not make a lot of suds so do not use more than you need.  Found the L.O.C. on Amazon click below:
NOTE:  I am not an affiliate of Amazon I am providing this link as a convenience to my readers.
---
3.  Your Best Friend has developed diarrhea the best course of action I have found here with a prolonged case is to feed your dog yogurt recommended to me by my veterinarian.
He did not specify any particular kind and at the time and seeing as I did not eat yogurt I went and got Yoplait fruity kind mixed each container up and feed it to my dog right out of the container, he loved it and licked the container clean.
In approximately a week he no longer had diarrhea, but the sad part is he suffered from this condition from his previous owner for almost two years.
---
4.  One of my readers has left another tip for everyone.  Using Nexgard will protect your pet from fleas and ticks.
I have not used this product, but have heard of it.  Where I live and considering my dogs only go out for potty time this is a product I do not need at this time.  But I appreciate him sharing this tip with everyone; he uses it on his dog and it works.
I encourage everyone to please post their tips for taking care of their Best Friend here now and in the future.
As I find more tips, which I know for a fact work, I will update with them here also.  Please ask questions because I may be able to find the answer for you and can always try.
Thanks for reading today and please come back often.
Susan