Welcome to Delightful Doggies 4 U, if you are here you are obviously looking for information about dog breeds and advice about dogs.  What I am trying to accomplish with this site is collecting information so you can make an informed decision when picking your next companion or family dog.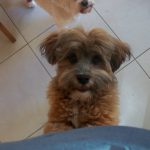 ---
Discussing Adoption from a Shelter Option #1
Now, with that in mind I would like to start out our discussion with the following:  If you are looking to get a new puppy or dog and can find it in your heart to adopt from your local shelter you would be doing every one of us a great service.
These poor babies used to have homes and people who loved them and for whatever reason, they ended up in the shelter unwanted.  For some of you I understand this is not an option but just thinking about going to visit the shelter and having a look around will not hurt.
The dogs at the shelter all have some training and just need a little more attention and patience until they get used to their new home and can trust you, remember they had a human at one time and that human is no longer around so they are confused and cannot comprehend why that human is not coming for them.
Some may have behavior problems but the people at the shelter will make you aware of these and your new best friend will come either spayed or neutered keeping populations of unwanted pets down.
---
Adopting or Purchasing a New Puppy Option #2
For the rest of you looking for a new dog and it must be a new puppy please be very careful where you get your new puppy, puppy mills and pet stores are not always your best options.  Always check out the breeder!
A very reputable breeder will not let you take the new puppy home until it has had it's first set of shots from the veterinarian and it has been wormed, also, the puppy will be from 6 to 8 weeks old before they will let you take it home.
Please remember puppies are very cute but they grow up and require much care during their younger life including training (house training, commands, proper behavior, etc.) and once they grow up they may not be as cute: so they are NOT a throw away commitment!
Because people think they must get a puppy and forget all the energy and work that goes into raising them the shelters end up overcrowded with the poor babies that people have become tired of.
---
In Conclusion
These are two ways of finding your new companion or family pet that I felt should be pointed out.   If you noticed I stated when getting a puppy that it is not a throw away commitment this is a fact that some people just don't seem to find very important and it angers me.
I have had dogs all my life and lost them all to the "Rainbow Bridge" (I will post this on my site) losing my dogs has been like losing a child to me sending a piece of my heart with each and every one of them.
Rest assured I know they are waiting for me when I go they will all meet me at the Rainbow Bridge.  What I am trying to point out here is please do not get a puppy and then decide that it is too much trouble or too much work and you do not have time for it and end up dropping it off at a shelter!
You are that puppy's life it loves you more than you can even imagine, what you are doing by giving it up is breaking the spirit of the animal, how can it ever trust humans again with you just throwing it away?
So I beg of you should you decide that a puppy is your only way to find a new pet make sure you are committed 100% to it and you will never let it go.
Thank you for coming today and taking the time to read this article here on my website I am hoping by providing you with this information and the other vast amount that will continue to be added here it will help you make an informed and appropriate decision for you.
Susan 🙂