Welcome to all new and usual followers, today's topic is going to be Whelping Boxes which most breeders are aware of and most of them have their favorites.

What is a Whelping Box?
Whelping Boxes are used for birthing puppies and keeping them contained in an area of safety once they are born. This provides the mother with being able to leave the newborn puppies to eat and relieve herself.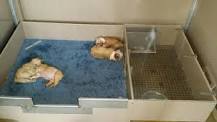 A whelping box can be used from the time the puppies are born until they are ready to leave the mother depending on the size of the liter and how many puppies she has had a long of course with the size of the box.
They come in different styles and are made from various materials so doing some research prior to purchasing one or if you are super handy building your own is a great idea.
Size of the breed is a determining factor for how large of a whelping box you are going to require so this is another thing to take into consideration from small toy breeds to extra large breeds your can purchase or build a box to suit your needs.
Comfort is one of the main objectives of the box providing the mother a safe haven in which she feels the most comfortable to deliver her puppies. 
Using a Whelping Box
If you are planning to use a whelping box for delivery of the liter then might I suggest you get this prepared ahead of time so that the mother has time to use it to sleep in and become familiar with making her more comfortable and at ease with it.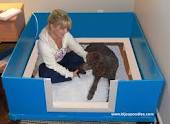 When you do this it will help her to know where she is expected to go when the delivery time has come and not hide somewhere inside or outside the house and have her liter.
Placing her bed inside the box prior to delivery time will make her know this is her own space and help her know what is expected when the time comes.
Providing food and water inside the box can also add to helping her know what is expected of her. Spending time inside the box with her keeping her comfortable with encouragement can be a good idea as well.
What to do if she does happen to start to deliver someplace else – move her and the new puppy as soon as you can into the whelping box and get her comfortable soothing her the whole time.

Materials for the Whelping Box
Yes, they do come made from different materials so selecting what is best for the dog and puppies is most important to most people.
Most do it yourselfer's make them from heavy plywood and normally this is just a box big enough for the mother and the puppies but remember puppies love to chew and the tiny claws are sharp so this can be a danger to the puppies.
Looking online I did find one at Amazon called the MagnaBox Whelping Box the perfect solution for professional dog breeders and careful home occasional breeders (otherwise known as backyard breeders).
Its textured surface, gray-colored, offers a pitiless resistance to damage and dirt and to top it up, it is chew-proof! Made of FDA approved HDPe plastic it is easy to clean with no cracks or crevices for bacteria or contamination.
No tools required for assembly and it measures 54″ L x 54″ W x 24″ H!
This box does not have a bottom in it so I would also recommend getting the Drymate Whelping Box Liner Mat which is made of a soft absorbent fabric with a non-slip waterproof backing preventing soak through.
Provides a sanitary whelping area where odors and stains wash right out it is washable, durable, and reusable. It can be cut to fit the edges won't unravel or fray. Having a sure-footed surface for puppies giving them an insulated surface to walk on.
Durable and long-lasting, machine washable, and made in the USA.
Making your own Whelping Box
Finding plans to make your own whelping box can be found in so many places on the internet including on your tube with instructions and videos.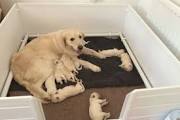 What I do not like about them is the fact they are made from wood and can be chewed or scratched by the new puppies nails with small slivers coming off and possible harm coming to the puppies.
Should you want to do this might I suggest once built your line the box with a solid piece of linoleum to protect the puppies from possible harm from the wood this will also make the box much easier to keep clean and sanitary for them.
This is probably not the best solution but at least thinking ahead will give you an idea of possibly something to line the box with making it much safer for the liter as well as the mother.
Even making your own might I recommend getting the Drymate Whelping Box Liner Mat to place in the bottom this mat is one of the best values to invest in for the puppies and the mother due to the warmth it can provide them.

In Closing
Whelping Boxes what a great idea for our wonderful doggies giving them their own space when it is time to deliver those new arrivals.
What are your thoughts on whelping boxes? Are your expecting a liter in the near future is this information valuable for you?
Leave your answers to the questions below I would love to hear them. If you have any questions for us here at Delightful Doggies 4 U ask them as well, leave any comments or suggestions too.
Thanks for joining us today have a great day where ever you are,
Susan
[wpforms id="1206″]