Why Use An Outside Dog Kennel?
Our four-legged friends no matter how happy they seem to be indoors lying around on the furniture need to get outside for more than just relieving themselves.
Fresh air along with sunshine can invigorate them the same as it does for us. Even in the winter months going out on a crisp sunny day can be energy lifting.
Not to mention exercise is important for your dog to keep them from becoming overweight. But there is more to having an outside dog kennel than just these things.
---
Keeps Dog(s) Safe
It is not advisable to just open the door to let your dog run the neighborhood considering all the dangers out there. Depending on where you live you risk the chances of him/her getting seriously injured or even worse a fatality.
Even with a fenced-in yard, it is difficult to make sure there is no way for him/her to escape not every day, but every minute. A dog can dig a hole in a few minutes to escape a fenced yard. It is in their nature to do this.
People have stolen dogs right from the owner's back yards more than I care to count. This is another one of the most vital reasons to keep your dog(s) safe from outside dangers.
Predators can be avoided in the country settings by making sure your dog(s) are safely guarded with an outdoor kennel. Tiny dogs need a roof over their heads to keep flying predators from swooping down and grabbing them for dinner.
This all might sound paranoid, but these things have all happened to pet owners in the past and will continue into the future. It is the way that nature works.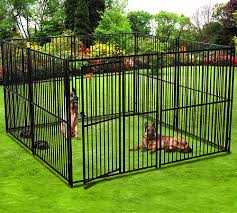 Knowing you secure your loved four-legged best friend in an outside kennel gives you the peace of mind they are safe from any harm that could come to them while out of your sight.
I would like to mention here that keeping the kennel locked is another tip to consider when living in a busy city or suburban street. Children love to play games leaving your dog out of the kennel is not above their way of thinking.
---
What Type of Kennel is Best?
No two dogs are the same, so you need to research which kennel would best suit you and your dog's needs. I have taken the time to research a few that I highly recommend below.
Lucky Dog Modular Silver Powder Coated / Chain Link Kennel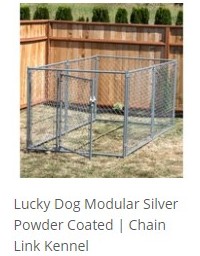 Lucky Dog Modular Silver Powder Coated Chain Link Kennel comes in three convenient sizes for you to choose from:
4′ H x 5′ W x 10′ L – recommend this for tiny and small breed dogs giving them plenty of room to play and run.
6′ H x 5′ W x 10′ L – recommended for medium breed dogs that are not in habit of jumping the fence.
6′ H x 10′ W x 10′ L – recommend the large size for large breed and extra-large breed giving them the room they require.
Lucky Dog Modular Chain Link Kennels have a 100% commercial grade steel frame, chain link, and a round tube design, with a sleek silver powder-coated frame. These kennels are constructed using a square corner design, ensuring safety and security.
Safe – Square corner design and dog safe lockable latch further safeguards your pet from injury.
Secure – 100% Commercial Grade steel and dog safe lockable latch keeps animals secure.
Versatile – The modular design provides extra versatility for customization, and provide your pets with plenty of exercise space in a welded wire modular kennel system. Chain Link kennel panels are available 4′ and 6′ heights, both 5′ or 10′ wide.
Easy Setup – Pre-assembled panels making set-up quick and easy. Simply stand panels upright in the desired configuration and bolt together for support. The 12-gauge chain link is attached directly to the square corner design.
Simple to Maintain – 1″ legs on each panel allow kennel installations to be easily cleaned.
PRODUCT DETAILS
Sleek, Durable, and Water Resistant Silver coated frame uses a two-step powder coating process
12 gauge galvanized chain link fabric, all-steel wire ties – no soft aluminum parts
100% Commercial grade Steel frame
Heavy-duty quick-connect all steel, double powder-coated frame
1 3/4″ extended legs for easy cleaning
Hardware included securing the panels
Only screwdriver and adjustable wrench needed for assembly
Our Kennel and Structure measurements are nominal. We use rounded measurements because our Kennels can often be assembled and/or configured multiple ways
LUCKY DOG KENNELS COMPREHENSIVE 1 YEAR WARRANTY
Lucky Dog Kennels are made by Jewett Cameron, a leading Manufacturing company based in North Plains, Oregon. Jewett Cameron warranties all Lucky Dog Kennels to be free of Defects in workmanship and further warrants that under normal use will be free of Problems for one full year from date of purchase by the original purchaser.
LUCKY DOG ANIMAL HOUSE HEAVY DUTY DOG KENNEL & ANIMAL ENCLOSURE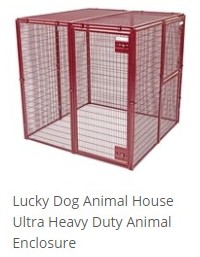 Shown this kennel/enclosure does not have a bottom, but is capable of adding one to it for the digger's that escape from a regular fenced in yard or kennel. 
LUCKY DOG OUTDOOR HEAVY DUTY ANIMAL HOUSE – DOG KENNEL AND PET ENCLOSURES
Lucky Dog Animal House Kennel Enclosures were designed for outdoor use. The Enclosure is constructed with high-quality powder-coated metal with welded wiring. They keep your pet safe from threatening predators while letting them enjoy the outdoors in peace.
PRODUCT FEATURES:
Burgundy Powder Finish: The powder-coated finish provides weather and rust resistance in a nice burgundy color
Protective Pet Cage: Animal House Heavy Duty Line uses 8 mm thick wire gauge
Heavy Duty Protective Pet Cage: Animal House provides a spacious Protective pet cage that protects your pet from predators
Modular Design: The enclosures have a modular designed that allows you to add additions to the enclosure whenever and however you want
Dual Gate Access: Free swinging gates allow for easy access from both ends of the cage
Spacious Interior: Wire panels and spacious interior allow your pet to freely enjoy the outdoors
Quality Construction: The Heavy-duty powder coated wire and metal is extremely durable, strong, and great for outdoor use.
Easy Assembly: Assembly only requires a screwdriver and a rubber mallet, and maybe a friend to help
1 Year Manufacturer's Warranty
PRODUCT SIZES AND DIMENSIONS:
| | | | |
| --- | --- | --- | --- |
| Size & Configuration | Gate Dimensions | Weight | Product Number |
| 5'W x 5'L x 5'H Flat Roof Enclosure | 60″ x 30″/ 30″ x 30″ gates | 118.8 lbs | AH 54202A |
| 5'W x 5'L x 6.25'H Peak Roof Enclosure | 60″ x 30″ Gates | 128.2 lbs | AH 56203A |
| 5'W x 5'L x 7.5'H Double-Stack Enclosure | 60″ x 30″ Gates | 154.5 lbs | AH 58205A |
| 5'W x 10'L x 7.5'H Double-Stack Enclosure | 60″ x 30″ / 30″ x 30″ gates | 244.2 lbs | AH 58404A |
Once again, this carries the 1 Year COMPREHENSIVE WARRANTY as all of Lucky Dog Animal Enclosures.
RHINO BACKLESS HEAVY DUTY STEEL DOG KENNELS
Rhino Backless Kennels come without a back panel and are designed to be used in conjunction with an existing structure.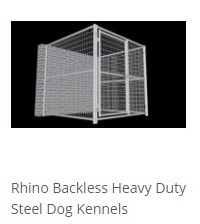 These kennel packages are designed with no back panel, specifically for use in a building where they will back up to an existing wall. Ideally, they are used with pet "doggie" doors for outdoor accessibility.
Rhino's heavy-duty dog kennels are made in America with strong galvanized steel, making them durable, reliable, and heavy-duty. The kennels are manufactured at Rhino's on-site facilities using 1-5/8″ 16 gauge galvanized steel tubing and 6 gauge galvanized welded wire Mesh with 2"x 4" openings, welded onto the frame. Compared to the usual chain link kennels, Rhino's wire mesh is superior in durability and dependability
All kennels are 6 feet high and come in single or 2 to 6 run kennel configurations for multiple dogs
Kennels Features:
6′ x 6′ Gate panel Large 3′ Door
6′ x 6′ Size panels (with or without Fight guard option)
Center Mount Panel Floor Anchor
1-5/8″ Panel Clamp for assembly
1-5/8″ Wall Anchor (used to attach kennel panel to a wall)
All panels 6′ High
2″ Legs for easy cleaning
1″ Heavy-Duty Lockable Sliding Bar Gate Latch
1-5/8″ 16 Gauge Galvanized Steel Tubing
6 Gauge Galvanized Welded Wire Mesh 2"x 4" Opening
Optional Fight Guard Panel: a fight guard divider to prevent physical conflict between dogs in kennels with multiple runs.
Bottom: 4′ tall galvanized 24 gauge sheet metal
Top: 2′ tall galvanized welded wire mesh
WHY BUY RHINO DOG KENNELS?
Rhino Dog Kennels are manufactured by CageCo. whose focus is providing the highest quality housing systems at affordable prices. CageCo is specialized in the containment and transport of exotic animals. As such, the materials used for Rhino kennels and crates are built and field-tested to house animals much stronger than any dog. The use of modernized shop technology ensures your pet has the best housing possible. Rhino dog kennels use ultra-durable galvanized steel, which protects and shields your dog, keeping them safe and making it almost impossible for your dog to do damage to themselves or the equipment. CageCo is a manufacturer that stands proudly behind their products and provides a 3-year warranty to guarantee this.
COMPREHENSIVE 3-YEAR FULL MANUFACTURER'S WARRANTY
Warranty is valid for a period of 3 years from the original purchase date on products manufactured by CageCo Inc. valid to only the original owner.
The warranty protects against defects in material and/or workmanship, and pet damage.
Warranty will cover manufacturer damage to the extent that makes the product unusable but does not cover cosmetic flaws.
---
In Conclusion
Above are only three of the wonderful outside kennels offered to dog owners. I can attest to the ones above being made of the finest materials backed by their warranties.
The selection of these kennels by myself is based on my experience with my own dogs. Knowing which dogs required what type of kennel to keep them happily exercised with outdoor activity, but safe from the harm when left unattended while outside.
As dog parents, we have a responsibility to them the same as our children to keep them safe even when out of sight.
Hoping you have found an outdoor kennel that will be right for your four-legged best friend here today.
Hearing from my readers is most appreciated please leave any comments, questions, or suggestions in the space provided below. I usually answer within 24 hours.
Thank you for taking the time to visit today, give me a bookmark for future reference.
Susan