What to Feed My Puppy
My Opinion on What Is Best
Good morning to all the wonderful dog world people,  Today I wanted to get into what is best to feed a new puppy when you first bring them home.
This might surprise some of you but those of us who have been around the block once or twice are familiar.
---
What Do You Feed A New Puppy?
You have just adopted a brand new PUPPY, so now "What do you feed your new puppy?".
Different size dogs need different food to grow properly and they must contain the right nutrients so that your puppy can grow into a healthy full-size dog.
With small breed and medium breeds, this is not so much of a problem in selecting a puppy formula that will give them the nutrients they need to grow properly.
But with large and giant breed dogs this is a must read any puppy full grown that will be over 50 lbs. have the greater risk of developing what is called hip dysplasia (this is an abnormal formation of the hip socket). 
This is caused by not getting enough calcium or the lack of in their food and can happen in small and medium dogs if they get too much in their food.
My suggestion here is to educate your self with the help of your veterinarian to make sure your new puppy is getting the proper nutrients so you can avoid this problem when they become adults.
Please follow the amount recommended for your new puppy breed; puppies will continue to eat and eat they do not have a stopping point to know that they are full and unless you are in the mood to clean up a big mess go with what is listed on the bag for weight, size, and age of your breed.
This will also apply to their intake of fluids mainly water make sure they have fresh water at all times I do not think you would like to drink from a dirty glass after someone else. 
Just try to monitor how much they are drinking which will help with your housebreaking of your new fur baby. 
Puppies do know when to stop drinking but if they feel that they are still hungry they will drink more than they need so just keep an eye if you think they may be consuming to much take it away.
Recommendation for dogs water intake is one ounce per every pound so using this is a guideline to follow with your pet.
I always at night would cut off their water at about 7 pm to work on the overnight holding but until you get the daytime thing down night time is somewhat hard.
But if you have them in a comfortable place and they fall asleep you are going to avoid having more accidents if you do cut the water out by a certain time at night.
---
Research Shows
Now I did research concerning the best puppy formulas for size breed and found the following recommendations:
SMALL OR MEDIUM BREEDS (Under 50 lb.)
Blue Buffalo Life Protection Small Breed Puppy, Blue Buffalo Wilderness Puppy Food, Taste of the Wild Puppy Food, Victor Grain Free Puppy Food, and Wellness Complete Health Small Breed Puppy.  These are all dry foods.
Blue Buffalo Wilderness Rocky Mountain Red Meat Puppy and Nutro Puppy Chicken and Oatmeal Pate.   (Nutro Puppy can be found at Chewy and Pet Smart)  These are both Wet foods for puppies.
Most people might have a hard time with feeding their pets raw meat what they really should be eating.  Places like Giant Eagle in my area carry some types of raw dog foods, but they are available with Raw Paws as you can find below.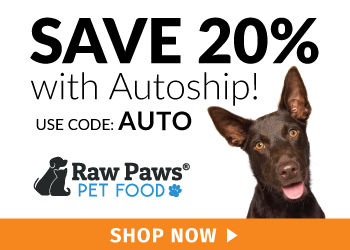 ---
LARGE OR GIANT BREEDS (Over 50 lb.)
Blue Buffalo Wilderness Large Breed Puppy, Eukanuba Large Breed Puppy, Hill's Science Diet Large Breed Puppy, and Taste of the Wild Puppy Formula.  These are all dry foods.
Please note you can use the above two Wet puppy foods for your large or giant breed puppy just make sure to feed them the dry also.
Peace Bone carries some of the finest ingredient dog foods you are going to find anywhere.  They also carry a variety of well-made products that I highly recommend checking out for your doggies.
****Always remember to ween your puppy from their puppy food to adult food by reducing the puppy and increasing the adult food over a period of time to eliminate digestive problems.
---
In Closing
Thank you for reading along today, I know this was not very much information for what to feed a puppy and many of us would have wanted more.
But I have found the more of a selection we have the harder time we have in making up our minds on what to get and use.
Another thing that you can always do is check with the veterinarian you are planning to use and see if he has a recommendation for the breed of dog you of gotten so your best friend can grow up big and healthy.
What are your thoughts on puppy foods today?
Which type did you feed your new best friend when you brought them home?
Your answers are most welcome, please leave them below along with any comments, suggestions, or questions you may have for me.  I answer all of them usually within 24 hours.
Thanks for reading and hope you will return for more of Delightful Doggies 4 U,
Susan